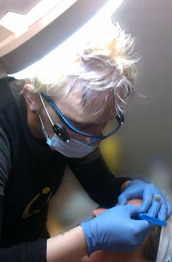 My professional education in Body Art includes Micropigmentation (also called Cosmetic Tattooing or Permanent Make Up). I don't use the same pigments as for "regular" tattoos, also I don't use coil machine.
I apply pigments using a hand method or pen machine. I use a variety of anesthetics to control the pain the best possible way, although the gentle hand method allows me to do eyebrows without any numbing agents.
Below you can download Pre- and Post Procedure Information and After Care.
I am a member of
American Academy of Micropigmentation
.
Due to chemistry of our body every pigment will fade (and/or change color). Every micropigmentation procedure will need a touch up with time. How often? It depends on many factors: what pigment was used, what color, sun exposure etc. Usually blondes with a light color and light application should come back once a year or once every two years, brunettes and auburns once every 2-3 years, and dark haired clients 5+ years. But this varies widely between clients. Lips require at least two applications to stay looking beautiful. Lip clients usually do not need any touch ups once they are finished, with the exception of a few clients. For an eyeliner - 2-5 years....
Prices...
I do not have flat price list. I feel it is not
right to charge same price someone who has a good shape already and wants to enhance a look and someone who has no eyebrows at all or half of them. Also there are different styles: solid fill, powder fill, hairstroke, feather touch... Different price will be applied to any correction work as well. Same thing applies to eyeliner - eyelash enhancement will be priced differently then bottom eyeliner only (half or full) or both - thin or dramatic...solid look or smudgy...all my prices cover 2 visits (one to do it, second "to polish it" - that includes slight color change - bit darker or bit lighter) except correction work. So please stop by for a free consultation.
To give you an idea about cost - usually eyebrows are 150 - 250 GBP
, eyeliner starts at 100 GBP, lip liner 150 GBP, full lips /feathered lips 200 - 300. Those are approximately prices for "new" work - correction or to boost another technician work prices vary.
---