Welcome to my web site.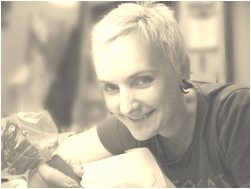 My name is Joanna. In 2011 I moved from US to Scotland where I opened my own studio.
I work mainly by appointments
, if you are interested in getting a tattoo from me, or would like to stop by to meet me, talk, ask an advice or make an appointment you are more then welcome to just pop in within my usual working hours:
Hours:
Vary - usually Mon, Tue, Th, Fr 10:00 - 15:00
Wednesdays and Saturdays appointments can be arranged
.
Late appointments can be arranged.
I do custom work and flash pieces and really enjoy Celtic motives.
My professional education in Body Art includes Micropigmentation (Cosmetic Tattooing). I am a member of
American Academy Of Micropigmentation
.
Recent work and news are also posted on
Facebook
and Instagram: jo_tattooist_scotland
Gift Vouchers

are available.
Please note: you have to be at least 18 years old to get a tattoo. No exceptions.
I DO NOT PROVIDE PIERCINGS.
For booking and deposit policy please scroll down.
---
Booking and deposit policy:

The best option will be to stop by, discuss your design (helps me to figure out how long your tattoo will take, take measurement if needed) and place deposit if you decide to book an appointment. Deposits are £20.00 (for small tattoos) or £40.00. If you can not make it in person you can book online using PayPal to place deposit (if you don't have PayPal account you can still use PayPal link to use Credit/Debit Card).

DEPOSIT POLICY:
Deposits are NON-REFUNDABLE. Deposit does go towards the final price of your tattoo.
If you don't show up for your appointment you forfeit your deposit and additional deposit has to be placed to book a new appointment. If you inform us 24 hrs or more that you need to reschedule, deposit will be moved towards your next appointment. If you reschedule 3 times you forfeit your deposit. In case of rescheduling a new date shall be booked within 6 months ,otherwise a new deposit has to be placed.

I reserve the right to refuse service to anyone I don't feel comfortable to work with (due to offensive design, placement, lack of ID, person attitude, etc).